Barn Painting & Barn Repair
3 Generations of Helping Ontario Farmers Preserve their Barns & Equipment
(Before & After Our Barn Painting Service)
Free No Obligation Estimates and Consultations
1-844-567-0921
About Our Barn & Farm Equipment Painting Company
Ray Stewart Barn Painting is a third generation family run agricultural painting company. We have been painting barns for farms and families across Ontario since the 1960's. We are highly experienced professionals in all facets of the barn painting industry.
When it comes to your farm painting projects, we understand the needs and wants of the Ontario Farmer; because we are Farmers also.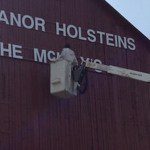 Services
We offer Boom Truck Service for safe and efficient painting of your Barn and Outbuildings, Factories or Shops. We can also paint Garages and Homes, Storage Tanks, Silos and Legs.
Ray Stewart Barn Painting can cover everything from Steel Roofs to Fences.
Call us to give new life to your Heavy Equipment or Farm Equipment.
Ray
Ray is a family man that lives on a horse farm with his lovely wife Kate and 4 children. Ray has followed in the footsteps of his grandfather and father in the agricultural painting business.
He started painting farms in 1989 at age 16, working for his dad in the summer months while finishing high school. He continued to work for the family business while he attended Wilfred Laurier University in Waterloo Ontario.
Four years later he graduated and eventually took the reins at
Ray Stewart Barn Painting.
Dave
Dave Stewart, our Spray Master, is another descendant of the Stewart family business. He honed his spray painting skills and general knowledge of the business through many years of experience. Dave started in the early nineties working for his uncle in the Barn Painting Industry.
Dave's love of horses and rural lifestyle, combined with his commitment to a hard day's work make his position as Spray Master a perfect career choice for Dave. He's a family man. He and his wife Tevea live in Guelph, Ontario, where they are raising their three children.
It's Your Barn, Ontario.
We know you want a job that is done properly, reasonably priced, and executed with the right quality product for your barn or farm outbuilding. We understand that while aesthetics are important; longevity is first and foremost for the Ontario Farmer.
That's why there is no job too small or too large for Ray Stewart Barn Painting.
"If you are faithful in small things, larger things shall be given unto you."
Free No Obligation Estimates and Consultations 1-844-567-0921
Do you need your barn painted and are located around the Hamilton area? 
Click Here
In the Kitchener Waterloo Region?
Click Here